Sweet Lemon Pepper Baked Chicken Wings Recipe
These crispy, sweet and flavorful wings started out as a copycat recipe, but evolved into something totally different. This wings recipe is one I've perfected over the months to have a wonderfully crunchy skin with the perfect balance of lemon and white pepper. Between this new recipe and my Sweet Chili Cha Cha Wings, I honestly don't know which one I like better.
Sweet Lemon Pepper Wings Recipe
For coating 24 wings:
1 c. flour
2 tsp. Mrs. Dash Lemon Pepper
2 tsp. black pepper
2 tsp. salt
2 tsp. sugar
2 tsp. white pepper
2 tsp. St. Elmo's Steakhouse Seasoning (Optional)
1 tsp. garlic powder
For brushing on wings:
3 Tbs. butter, melted
1 tsp. lemon extract (lemon juice works too)
1 tsp. sugar
Dry topping:
1 tsp. salt
1 tsp. sugar
1 tsp. white pepper
Directions:
Preheat oven to 450° and defrost wings. Mix all coating ingredients in a gallon size storage bag. Pat raw, defrosted wings dry with paper towels before adding to the coating mix in the bag. Gently shake and move the bag until all wings are well coated. Place a wire rack on a baking sheet and place wings top side down, not touching.
Bake wings for 10 minutes on the top rack. Flip over wings with tongs and bake for another 10 minutes. Mix together the butter, lemon extract and sugar to brush on wings. As soon as wings are brushed, sprinkle generously with the dry topping mix. Bake for 5 more minutes or until a crispy golden brown.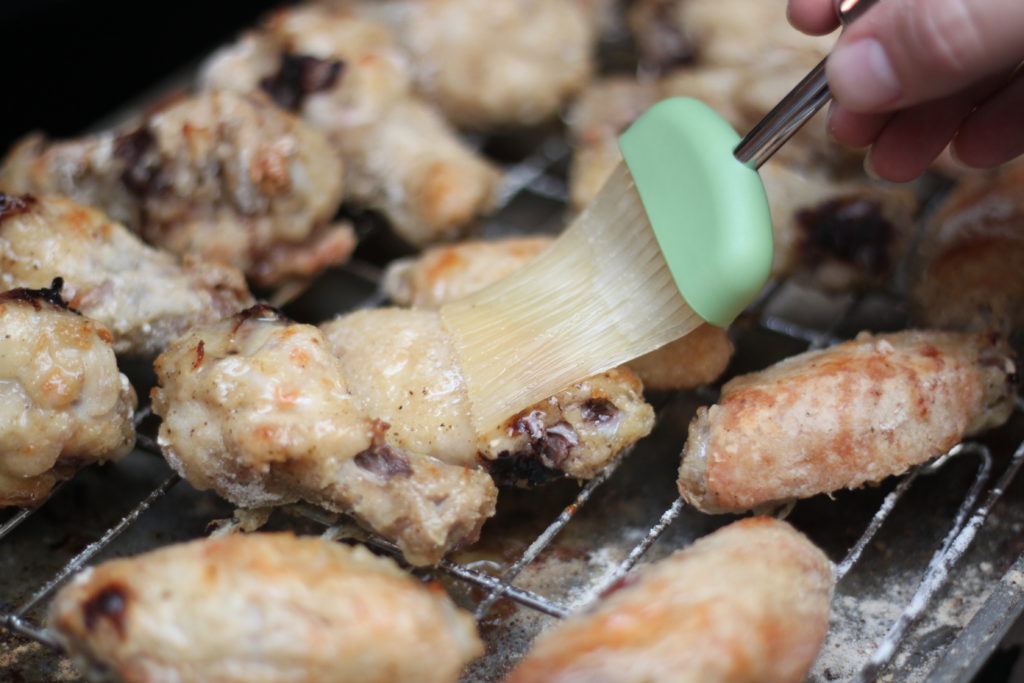 Pro Tip: If you are baking more than one pan of wings, make sure you start them at different times so they can take turns being on the top rack (especially for the last five minutes). If you don't rotate them, the skin will get soft and not crispy. The dry coat for sprinkling on top sticks better on the flats, so give special attention to the drumsticks.
[amd-yrecipe-recipe:3]
---
---