Mac 'N Cheese Waffle Burger Recipe
Alright, I'll be honest and say: this is not a simple burger recipe. But, man, is it good and we do love our gourmet burger recipes around here. I saw a picture of a waffle burger floating around Facebook last week and had to make it. Here is my version.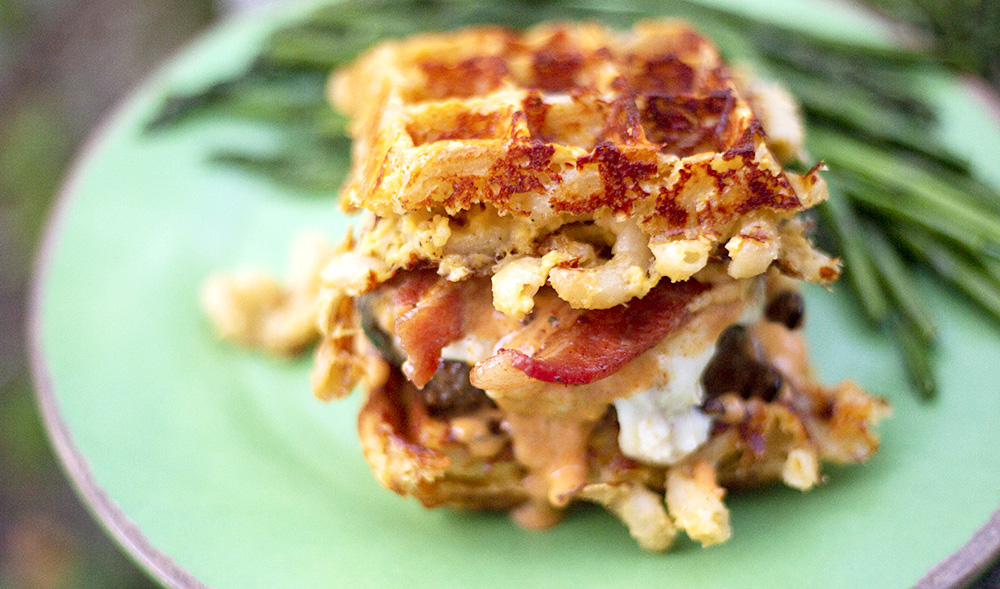 Here is the image I saw from John Belvedere and used for inspiration (I have no clue what flavors they use):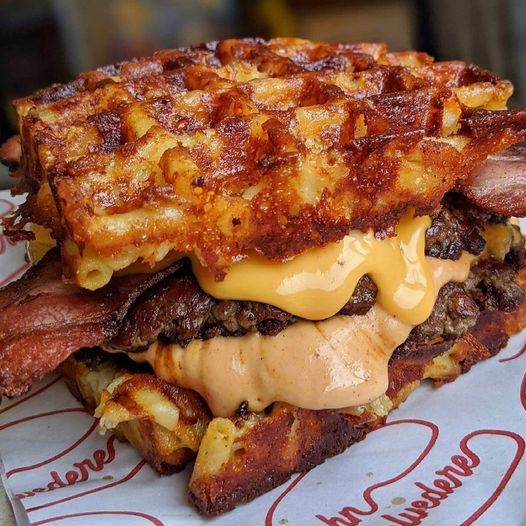 At first, you might think this is incredibly filling. But, mac 'n cheese, fries or baked beans are common sides to include next to a burger. So, really, this just cuts out the bun. It also goes great with lower-carb sides (fruits and vegetables) to help balance it out.
Mac N Cheese Waffle Burger Ingredients
For each burger, you will need: two waffle squares, two smash burger patties, bacon, smoked cheddar sauce, mac n cheese sauce and smoky honey mustard.
Mac N Cheese Waffle "Bun" (and Mac N Cheese Sauce)
1 package macaroni
32 oz Velveeta original cheese, divided
8 oz smoked white cheddar
4 oz smoked sweet Swiss
2 eggs
1/2 cup flour
approx. 1/2 cup whipping cream, divided
1/4 cup butter
Seasoning (I used black pepper, Lawry's and Mrs. Dash Garlic & Herb)
Smoked White Cheddar Sauce
4 oz smoked white cheddar cheese
2 tbsp whipping cream
1 tbsp butter
Smoky Honey Mustard Sauce
2 tbsp mayo
2 tbsp Heinz Carolina Sweet Mustard BBQ sauce
1 tbsp Roasted Pepper Sauce
1 tbsp honey
1 tsp ground paprika
4-7 drops of liquid smoke
Mac N Cheese Waffle Burger Instructions
Mac N Cheese Waffle Buns: Start by melting the butter in a large sauce pan over low heat. Add about 2/3 of the Velveeta cheese, sliced into 1/2 inch slices. Allow to sit on low heat for a few minutes, softening. Meanwhile, start water in a large sauce pan for noodles with 1tbsp salt, Lawrys and Mrs. Dash (to flavor noodles). Strain noodles when they are al dente (about 6 minutes) and run under cold water until completely cooled.
Grate the cheddar and Swiss cheese, adding it to the Velveeta mixture. Add approximately 1-2 tsp. of black pepper, Mrs. Dash and Lawry's (to taste). Add 1/4 cup whipping cream and stir until cheeses are smooth and mixture is thick, but creamy. In a separate small bowl, mix remaining whipping cream (about 1/4 cup) and flour until smooth.
In a large bowl, pour all but about 1 cup of the Velveeta mixture (set the 1 cup aside for Mac N Cheese Sauce). Add the flour mixture to your large bowl of Mac N Cheese sauce and mix well. Add noodles and gently fold in until completely coated. Add both eggs and gently mix in until the egg is no longer separate from the cheese mixture at all.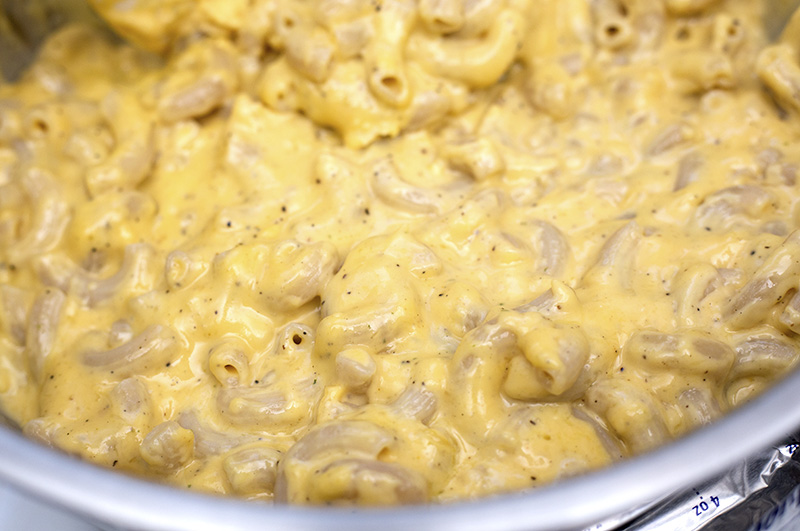 When the waffle iron or press is hot, spray with nonstick spray and add the Mac N Cheese. Press the iron together and hold to ensure the crevices' are filled. Check, cooking until waffles start to turn golden brown (this takes longer than waffles). Spread buns on a baking sheet and place in the oven at 300° while you make the rest of the buns, burgers and sauces.
As you are making waffles, fry up bacon and then make your smash patties (just very thin patties). I seasoned my patties with a little pepper and Lawrys.
Sauces: For the Smoked White Cheddar Sauce, simply melt ingredients slowly on the stove or in the microwave, stirring every 30 seconds. For the Smoky Honey Mustard Sauce, whisk all ingredients together. For the Mac N Cheese Sauce, add 2-4 more tbsp to the 1 cup of reserved Mac N Cheese mix and melt together until smooth.
Assembling the Mac N Cheese Waffle Burgers
Not too bad, right? At this point, you just layer your ingredients.
Bottom Mac N Cheese Waffle square
Smoky Honey Mustard Sauce
1st burger patty
Smoked White Cheddar Sauce
Smoky Honey Mustard Sauce
2nd burger patty
Bacon
Mac N Cheese Sauce
Top Mac N Cheese Waffle square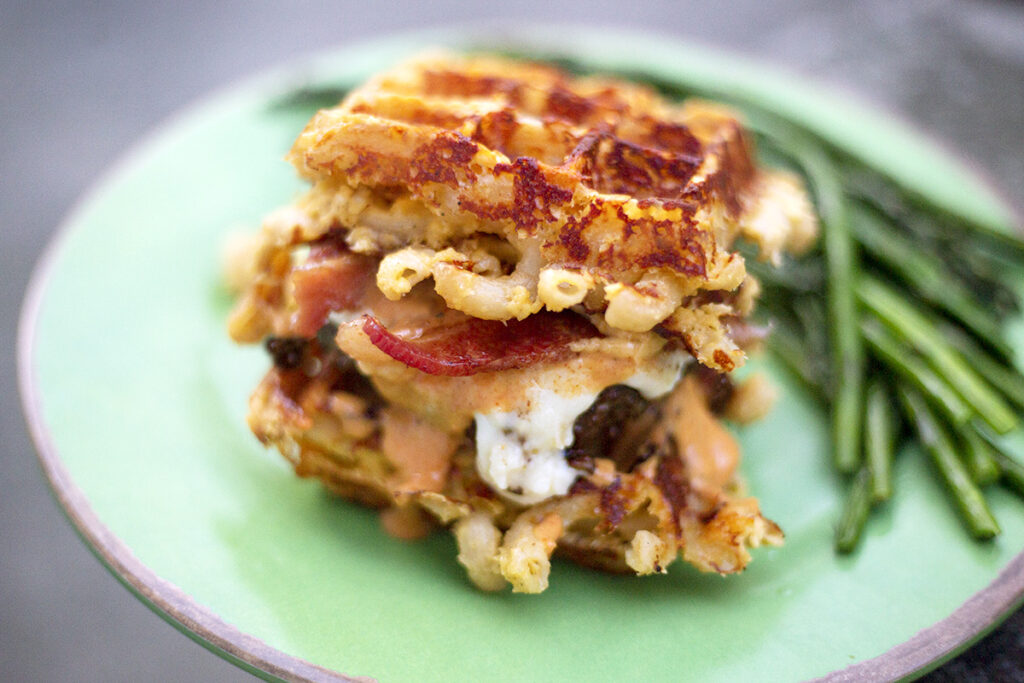 This burger went really well with asparagus and fresh watermelon!
Make sure you pin it for later: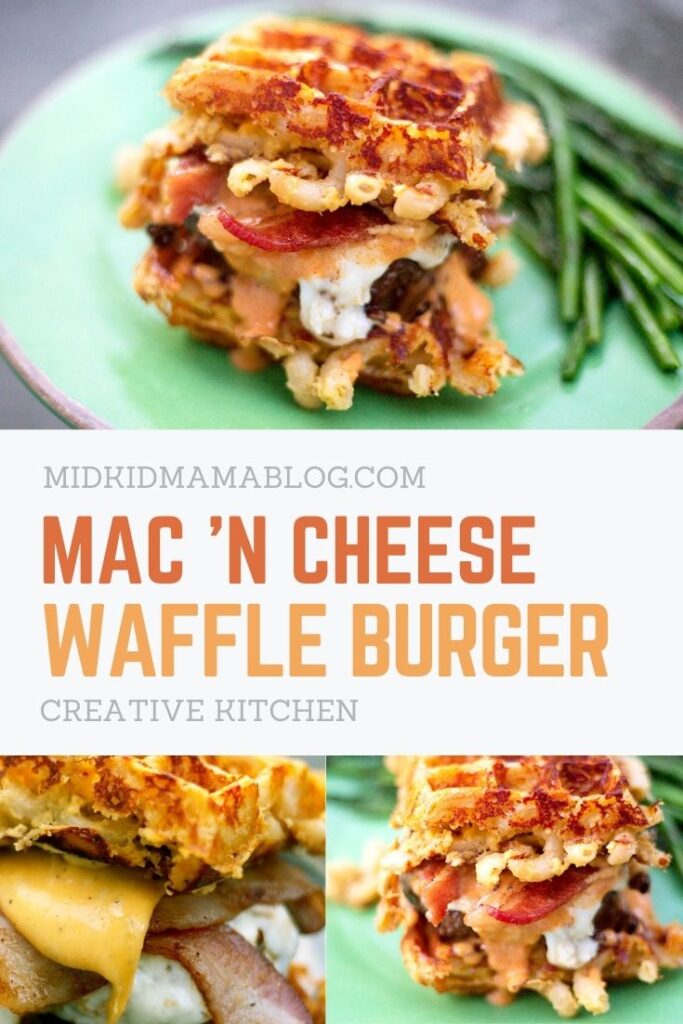 ---
---