Get Your Crew Together: Science Says Family Meals are Important
We need to eat more meals together as a family.
You are busy, tired and burned-out by the end of the day. I get it. I really do.
But, family meals are too important to skip. Eating together has always played a key role in training kids and keeping families healthy.
If you don't know, we spend a lot of time together as a family. Even when Knick is busy with coaching and I'm stretched thin, we still eat 99% of our dinners together. It is easier to do this with little kids, since they will be busy themselves as they get older. But, eating together requires prioritizing family meals at all times. Understanding the importance of eating together as a family and how you can make that easier is the first step to establishing that priority.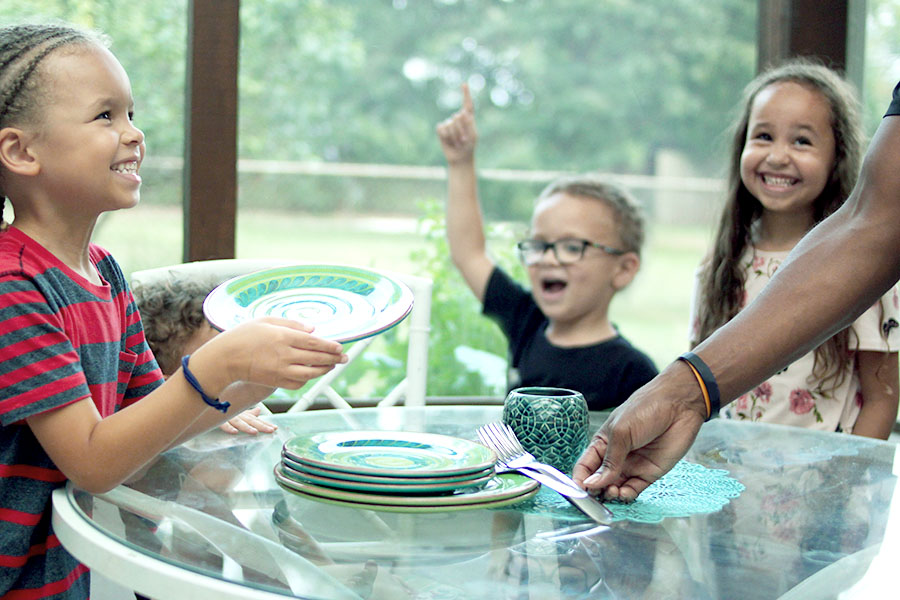 September is National Family Meals Month and I am so excited to partner with the FMI Foundation to bring you this post on family meals.
Keep reading for some helpful tips and inspiration to get you started on making those family memories across the table.
Are Family Meals Really that Important?
"Home Cooking in America 2020," by the FMI Foundation[1] notes the biggest reasons families don't cook meals and eat together at home include lacking time, energy and inspiration. But, homemade family meals create a deep connection, can cost less and can be healthier.
It showed that during the COVID-19 pandemic:
40% of American adults say they are cooking more
23% are planning more meals in advance
18% are trying new dishes more often
Studies show that family meals improve fruit and vegetable consumption. My kids are always more willing to try vegetables if they see us (especially dad) eating them first. Family meals improve communication, teach table behavior and give us a set time to spend time together each day.
Whatever our new normal will be, we need to stay physically and emotionally fit. Family meals help with both. But, so many meals at home means we need to get creative with options for healthy, cheap and easy meals.
Cheap, Healthy and Filling Family Meals
I know all too well what it's like to feel broke and in need of a cheap meal. Sometimes money gets tight and that's when you need meal ideas that will stretch out those pay periods without sacrificing your family's health. Rather than spend money on fast food, you can make cheaper dinners at home. My go-to cost-conscious meal typically involves:
Chicken: usually the cheapest by the pound of the meats, chicken is also one of the more nutritious—high in protein and low in fat. I try to find on-the-bone meat for around $.99/lb and boneless for under $2/lb. It can be added to pasta, grilled, baked or fried.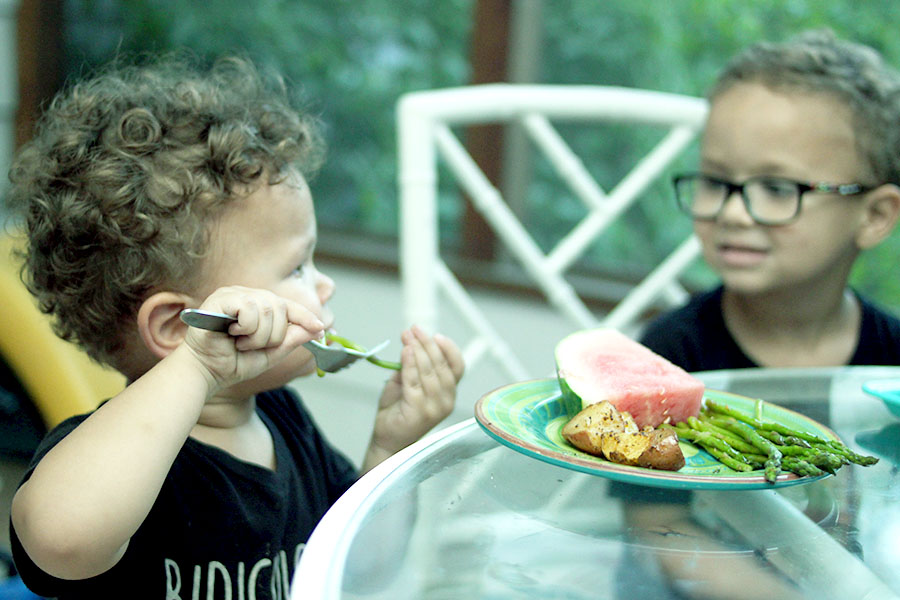 Green vegetable: Adding a green food to the plate adds nutrients and vitamins without starches or carbs. In-season vegetables are the cheapest and can be as low as $.99/lb. Asparagus, green beans, bell peppers (we eat these raw) and broccoli are all great vegetables to snag when they are on sale. You can also opt for a bag of frozen peas for $1. Kids are probably going to push back a bit on this, but it's really important to keep putting green foods in front of your kids, despite their protest. I personally make my kids (over 2) eat at least one bite.
Potatoes: Not necessarily the healthiest vegetable, but kids do need carbs to fuel their incredible energy. Unprocessed potatoes are natural and filling. Sweet potatoes are the most nutrient-dense and are a complex carb. Potatoes are very cheap per pound (less than $1) and easy to roast with a little butter or oil, salt, pepper and seasoning salt. They should be started early, since they will usually take longer than the rest of your meal. If you are in a hurry, try microwaving for 3-4 minutes before putting them in the oven to speed up their cooking process.
For our family, a home-cooked meal of chicken, vegetables and potatoes will cost around $10. Add in something fun, like watermelon, and you can still stay under $15.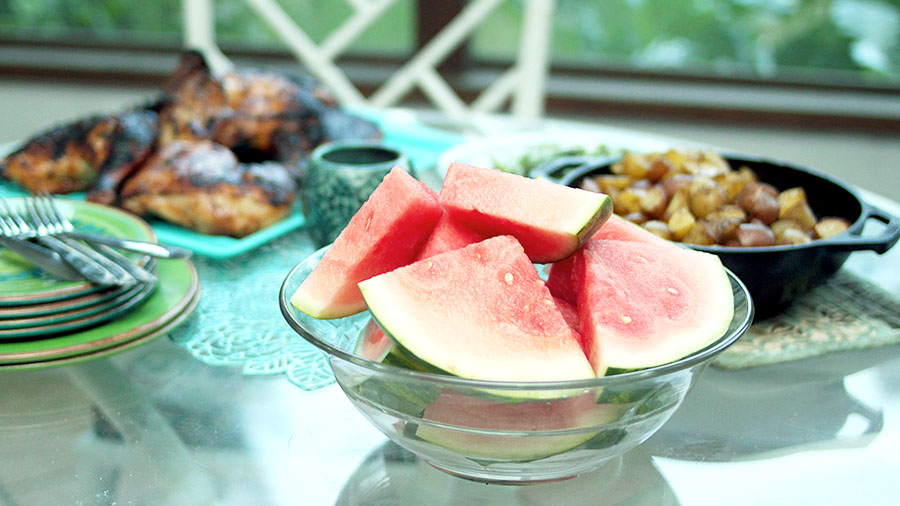 Not bad for a family meal, right?
You can switch it up with these cheap ingredients instead of the potatoes:
Pasta noodles (Hearty Chicken and Noodles Soup or chicken parmesan)
Rice (chicken stir fry or just as a side)
Homemade bread (it's cheap and delicious! Try my Perfectly Homemade Dinner Rolls)
Tortillas (chicken tacos)
Tortilla chips (chicken nachos)
Beans (buy them dried in the bag for a healthier, cheaper option)
Fast and Easy Family Meals
I like to make complicated meals because cooking is an art form. But, sometimes you are short on time. Making pretty or complicated food isn't the point. Sometimes we hold ourselves back because we put too much pressure on the process.
I reached out to Krista Marshall, creator of Everyday Moms Meals, and she stated it perfectly: "Putting a delicious meal on the table to bring your family together can be the best part of a busy day. No matter how simple the meal might be, the most important thing is everyone sharing time with one another, creating memories."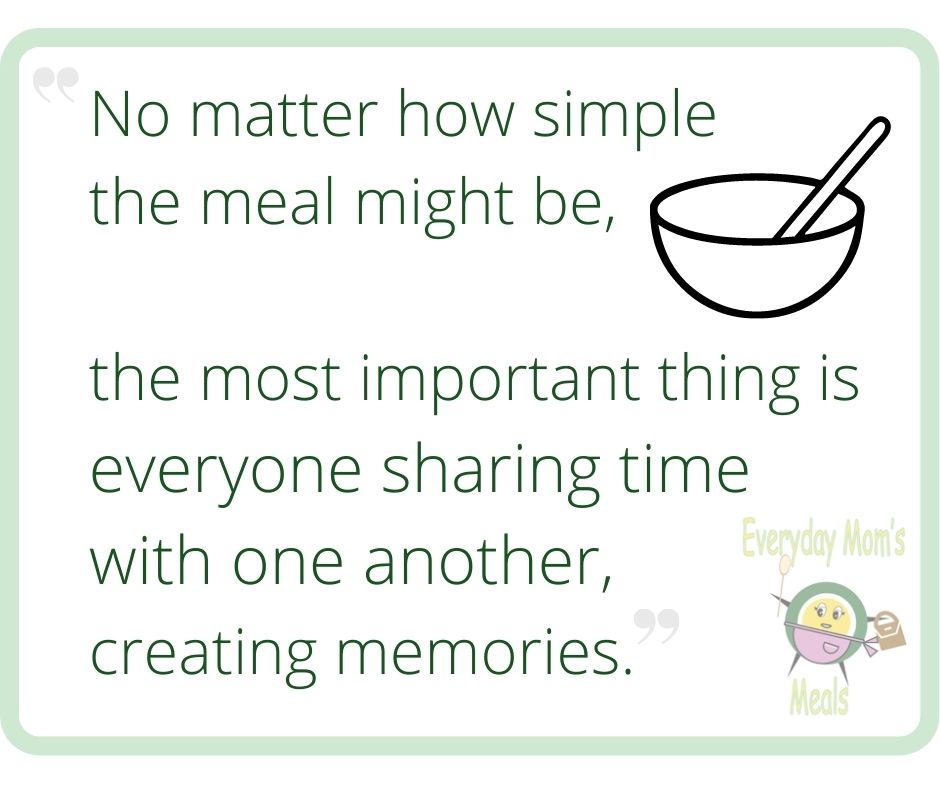 My personal go-to meals when I'm in a rush are spaghetti and tacos.
It's also a huge time-saver if I have the chance to make meals ahead of time for the freezer to heat up on another day for dinner. Meatloaf, quiche and chili are a few of my top homemade freezer meals. Even just freezing the cooked meat can be a huge time-saver (like cooked ground beef for spaghetti or tacos). I also tend to put big batches of chicken or burgers on the grill if I can, saving part of the batch in the freezer for a future meal.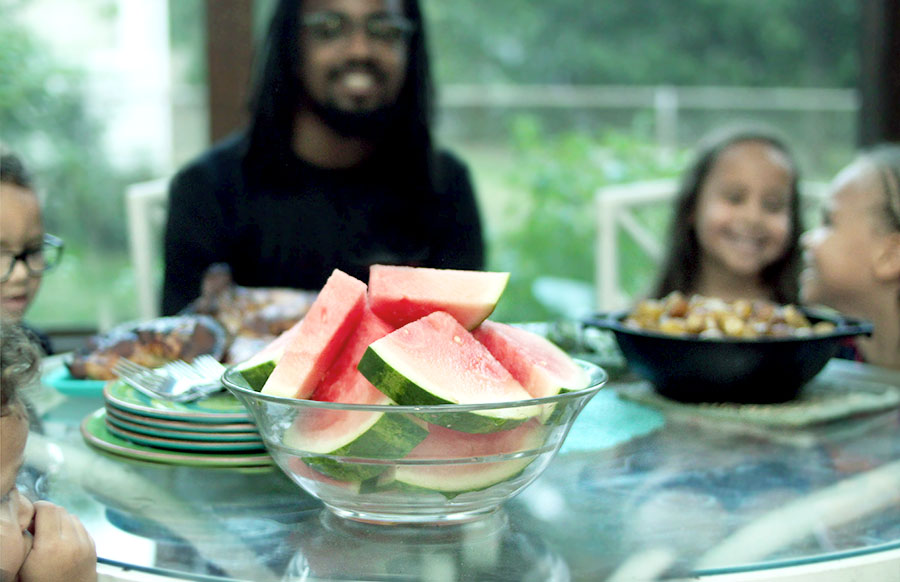 Special Family Meals
Sometimes you can splurge—in time or cost—and those are special family meals! While all family meals are important, the special ones can be the most memorable. Some of our favorite ideas for changing up the scene include:
Outdoor (picnic blanket in the backyard before we had a patio set)
Our local cinema bar and grille or drive-in movie theater
Party platters (they love crackers, cheese, sliced meats and wings they can self-serve)
Get creative with your family meals!
When I was a kid, my family ate a lot of meals together. However, some of the most memorable family meals I participated in were at my friend's house—her parents would let the teens plan a themed family dinner we prepared mostly unaided and presented to the rest of the group. We did a drive-in Dog 'n Suds while on rollerblades, a very wild Alice in Wonderland Mad Hatter Tea Party and other creative themes.
Eat More Meals as a Family
So, how many meals should you eat as a family?
According to the FMI: As many as you can.
The Journal of Nutrition Education and Behavior (JNEB) recently published a review[2] that sorted through over 1200 studies to look for dietary outcomes linked to family meals. The review found studies agreed on a noticeably higher level of fruit and vegetables during family meals and a lower number of sugar-sweetened beverages.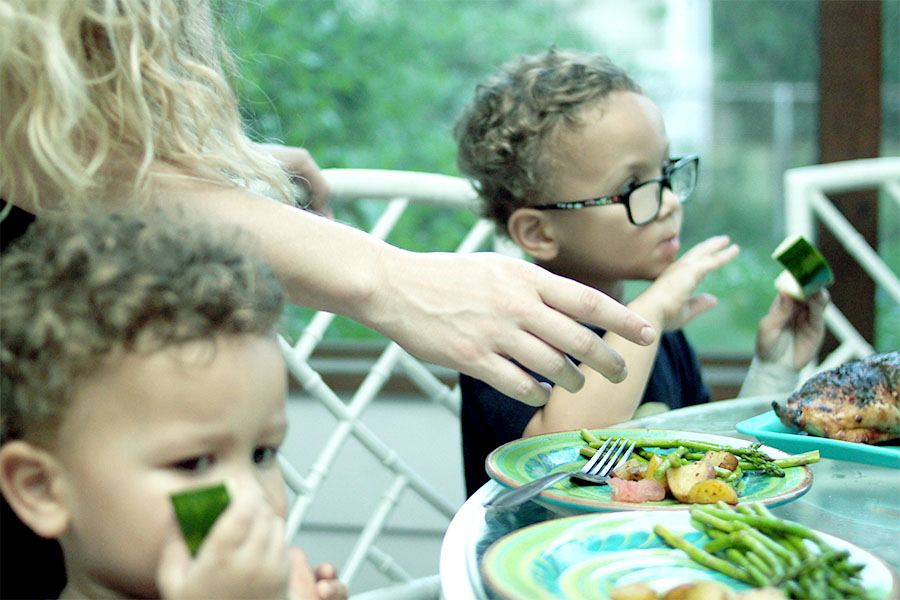 Did you know September is National Fruit and Veggies Month too? So, take this as your reminder that the goal is 1-2 cups of both fruits and vegetables for kids aged 2-13. Planting a garden has gone far in getting my kids excited about trying vegetables. Having them help make the meal really helps them want to eat it–but that's a whole other can of worms for another post.
Keep bringing your family together for meals and check out the Family Meals Movement for more ideas and information!
Additional Sources:
1. FMI Foundation. (2020). Home Cooking in America 2020, a Special Report based on U.S. Grocery Shopper Trends.
2. Robson SM, McCullough MB, Rex S, Munafò MR, Taylor G. Family Meal Frequency, Diet, and Family Functioning: A Systematic Review with Meta-analyses. J Nutr Educ Behav. 2020;52(5):553-564. doi:10.1016/j.jneb.2019.12.012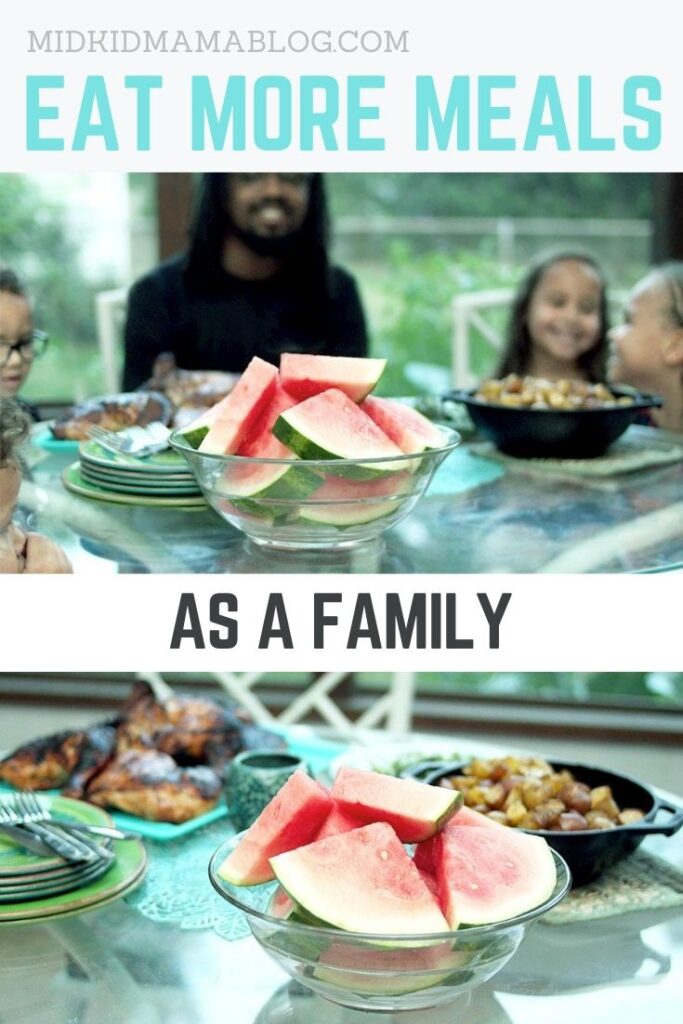 ---
---