Gluten-Free Loaded Potato Soup
This gluten-free potato soup is SO good that my whole family loved it too. If you don't need to be gluten-free, you can substitute the gluten-free flour for normal flour. I will say the smokey white cheddar I picked out at the grocery store made this soup incredible—so pick a good cheese!
Gluten-Free Loaded Potato Soup Recipe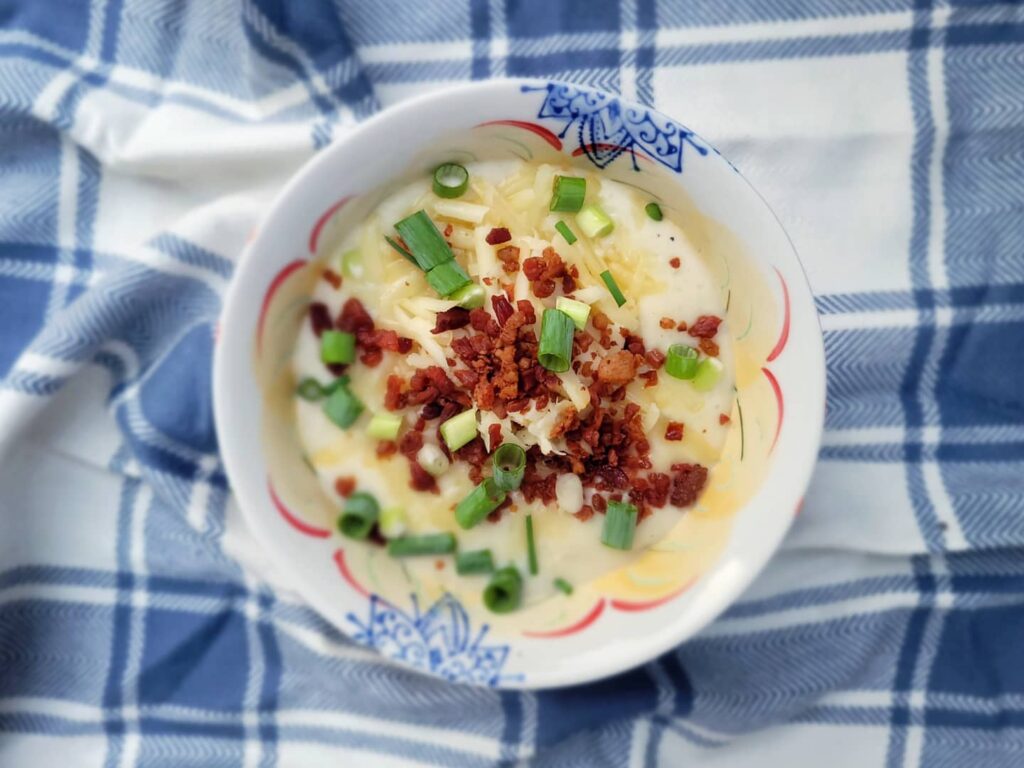 Give yourself at least an hour to have this made and ready to serve. This loaded potato soup recipe will make a side for 6-8.
Potato Soup Ingredients
4-5 large russet potatoes, peeled and cubed
8-10 Tbsp unsalted butter
2 cups whipping milk or whole milk (or use 4 cups of a milk substitute—like rice milk—and skip the broth)
2 cups chicken broth (vegetable broth or water would work too)
8 oz smokey mild cheddar cheese, hand shredded
3 Tbsp King Arthur's Gluten-Free 1-1 Flour
Bacon bits
1/2 medium white onion, diced
Green onions
Salt and pepper
How to Make Loaded Potato Soup
In a large pot, melt 8 Tbsp of the butter and add potatoes. Cover and stir occasionally, keeping the heat on medium-low, allowing the potatoes to soften without browning or sticking to the bottom. When potatoes are cooked, remove to a separate bowl.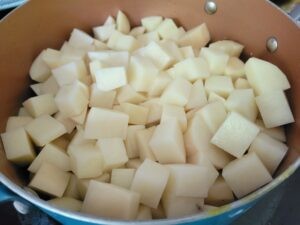 Melt the remaining butter in the large pot and use a whisk to mix in the flour and diced onions. Allow the flour to just start browning before adding in the milk and broth. Continue mixing and reduce heat to avoid reaching a boil. Mixture should be very runny and smooth.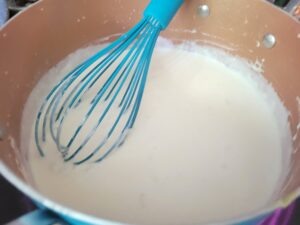 Using an immersion blender (or potato masher), blend some of the cooked potatoes in the separate bowl smooth before returning them to the large pot with the milk and flour mixture. Allow some of the potatoes to remain chunky. Mix in the pot well to fully combine liquids with potatoes, adding salt and pepper to taste.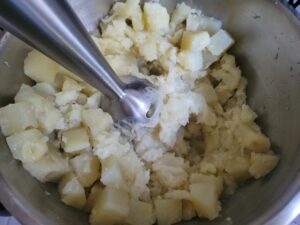 You may need to add additional milk or water to get the consistency of a thick soup (not mashed potatoes). When the soup is just a bit thinner than you want, add about half the shredded cheese and turn the heat off.
Serve topped with shredded cheese, bacon and green onions.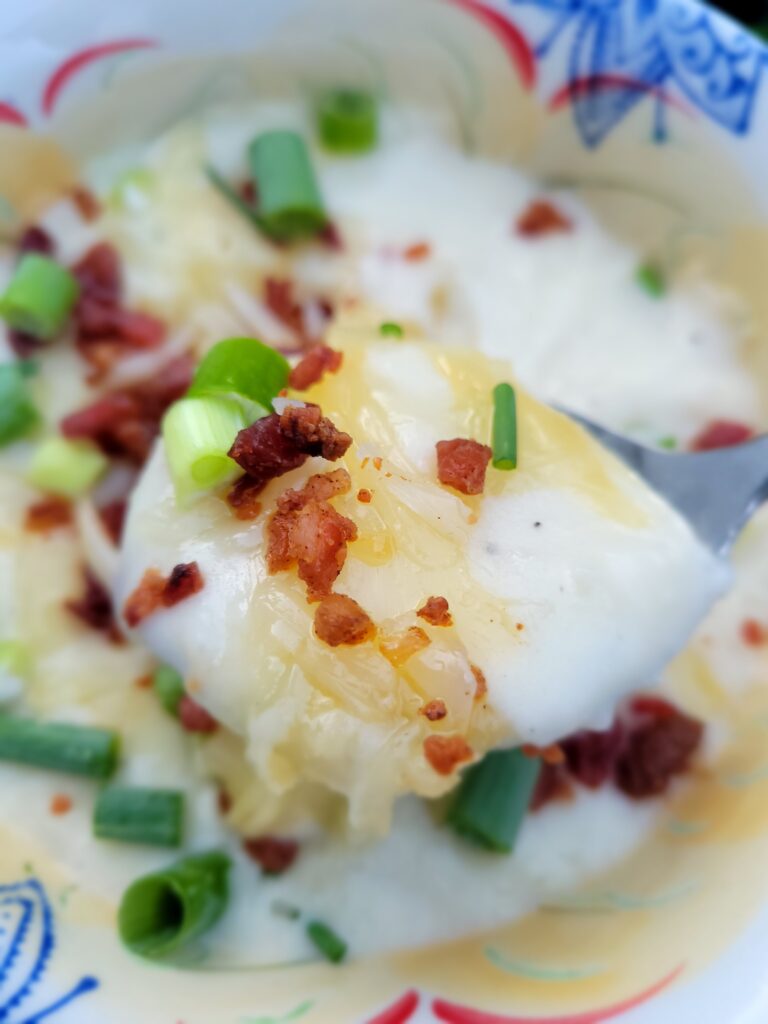 Make it a full meal and serve loaded potato soup with:
Recipe Notes
If you are using another kind of flour, add a Tbsp or two more to the recipe. King Arthur GF flour tends to give a thicker result than most flours.
Cooking the potatoes fully in the oil (butter) before adding any water (milk or broth) allowed the potatoes to cook without the starches interacting with the water. Only simmmer after adding the milk and cheese to avoid curdling. This resulted in a very smooth and creamy potato soup that wasn't at all "gluey" or grainy.
It may be tempting not to add a bunch of other ingredients (like garlic), but the simple flavors here are incredible—especially if you find a smoky cheddar to use as a highlight ingredient.
Pin it now to make later: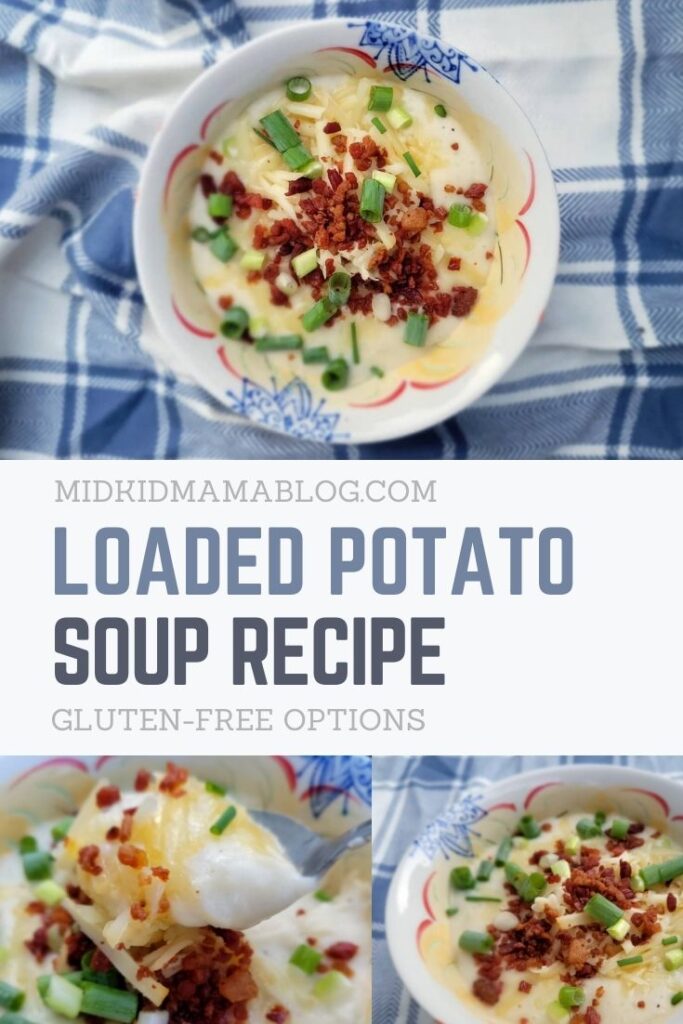 ---
---