Apple Cherry Glazed Holiday Ham Recipe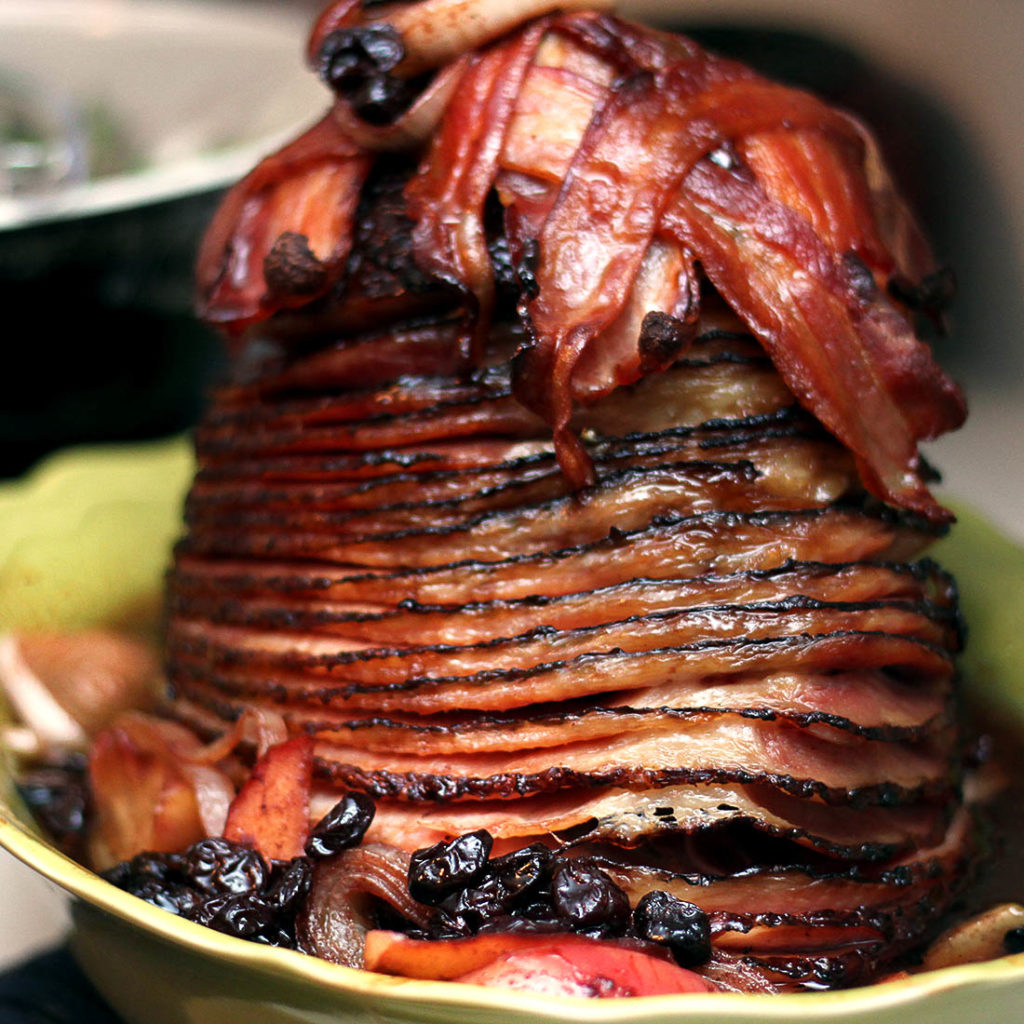 When we host Friendsgiving at our house, I usually volunteer to bake the ham! Here is this year's ham recipe and it turned out AMAZING. The final result looked a lot like something that should really be at a Whoville Christmas party. But, this is the perfect ham recipe for any special dinner or holiday event.
Starting the Ham
Start by wrapping the ham in a loose aluminum tent and placing in a ceramic baking dish. Put into the oven 250° for 1 ½ hours. Remove ham and open the aluminum tent. Increase the oven to 350°. Create a lattice with about 8 full strips of bacon on the top of the ham. Place back into the oven for about 10 minutes while making the glaze.
Apple Cherry Ham Glaze
2 Tbsp butter
1/4 medium onion, sliced
1/2 apple, thinly sliced
2 strips of bacon, chopped
1/2 cup dried cherries
1 Tbsp dark brown sugar
1 tsp ground cinnamon
1/8 tsp ground cloves
1/2 cup cabernet (or dry red wine)
Heat butter in skillet on medium high heat. Spread bacon evenly and cook until no longer raw. Add dried cherries until softened, stirring frequently. Then add onions and apples until soft and translucent (about 4 minutes). Slowly pour in cabernet and allow to boil for a minute before adding brown sugar and spices. Stir and continue to cook until reduced by about half.
Finishing the Ham
After the glaze is made (about 15 minutes), check to make sure the bacon has started to cook. Add half of the glaze to the top of the ham, letting it drip down into the aluminum foil still holding the ham and re-tent. Bake for 10 minutes. Remove ham and allow about 15 minutes of rest. Remove aluminum foil completely (just lift the ham up with a spatula and pull the foil out carefully). Top with remaining glaze and serve.
After the ham was cut, I actually removed the glaze from the baking dish and put it into a bowl like ham dressing. Everyone really liked it and I probably could have doubled the glaze for my crowd. Serve with Classic Mashed Potatoes.
Let me know if you make it—I'd love to hear your thoughts!
---
---