My 12 Hospital Bag Must-Haves
At my most recent checkup, it really surprised me to hear the nurse say 35 weeks. I've been thinking I have two more months in my head, when really I have about 5 weeks.
Since my first three had to be induced, I am skeptical this one will try to come early. That being said, I probably still shouldn't procrastinate. With Kamden, the doctor gave me a pretty hard time because my hospital bag wasn't packed the week before his due date (he was finally induced a week late, though). I need to start thinking about packing my bags. Here is a list of my hospital bag must-haves:
Earth Mama Angel Baby Bottom Balm – this stuff is a lifesaver if you have to get stitches and it heals at an incredible rate. A friend gave it to me with my first and I couldn't believe how well it worked compared to everything else I've tried. I've never seen anything like it. It will perish, so I get a new jar with each baby. It's good for helping cuts heal, including diaper rashes for the baby.
Footed Zip PJs or Gowns – You want to have warm sleepers that are super easy to open and close with a brand new baby. Some of mine have peed through and they can't take a bath until after the first several hours, so make sure you have a few different ones packed.
Coming Home Outfits – I usually pack one or two outfits to take pictures of the baby in. I love those fresh 48 pictures to look back on, but I choose to shoot them myself. Don't forget the hats (and bows if it's a girl)!
Cosmetics and Shower Stuff – You can't believe how much better you will feel after a nice shower, doing your hair and even putting on a little makeup while your brand new baby sleeps. It seems extravagant (and you will probably have to talk yourself into even doing it), but you feel ready to face the world afterwards. I take my shampoo, conditioner, body soap, loofa, razor (never know how long labor will take..one of mine was 42 hours and then I had another 48 in the hospital with the baby), concealer, mascara, blow drier and a straightener. Seriously, nothing beats that shower and I take one pretty much as soon as possible.
Lotions and Chapstick – The hospital is dry. Pack lotion, face lotion, baby lotion and chapstick. One of my favorite lotions is Lancome Bienfait Multi-Vital Night cream for my face. None of this is sponsored, I just really love that stuff and it goes on like silk.
Mementos for Footprints – I didn't realize it with the first, but they will stamp your baby's foot onto just about anything when they are recording footprints on that first day. When Kamden was born, we bought a baseball and now it is part of the décor in the boys' sports-themed room. A flower pot could be super cute for a girl. I've been looking for a sports-themed bank and might consider using this for the fourth one if I find the right one. A few extra sheets of paper could be cute, and then you could turn them into artwork for the nursery later or just save them in the baby book.
Personal Fan – I tend to be warmblooded, especially when I'm hormone crazy and pregnant. The nurses have always noted that they've never had anyone bring a fan but that it's a great idea. And it is. During labor, I inevitably have a heat wave where I need a temperature change fast. A fan will change how you feel in seconds and won't jerk around the room temperature for everyone else. Later, I usually have periods of feeling very hot when my hormones are still freaking out after the baby is born – it's great to have the fan and not make the whole room too cold for the baby.
Camera and Chargers – Don't forget a good camera to capture the early moments and visitors.
Paper and Pen – There will be lots of things to remember and it's nice to have something to write on just in case. I also added the Baby Daybook app to my phone to track when I feed and change the baby – the nurses will ask every time they check in on you.
Slippers and Comfy Clothes – Bring clothes that are comfortable to lounge in because you will spend most of your stay in bed. Slippers are great for when you might want to take a walk around.
Toilet Paper – Call me crazy, but I can't stand the horrible 1-ply paper at the hospital. It's even worse if you have to have stitches. I've been bringing my own roll since the first baby and it is amazing.
Baby Blankets – Muslin blankets are my favorite for swaddling year round. I also like to have a cozy one for the hospital room. Bringing one or two is great for a cute and simple photo backdrop. Once we get home, the baby will transition to sleeping on his back without any blankets because when he starts moving around it's best to keep the crib clear.
I also like to pick out a cute photo box ahead of time where I can keep small mementos, like hospital bracelets and some of my favorite congratulation cards from the baby shower. It's fun to pick out and helps keep everything in one place as the baby grows. Later, I've added my favorite drawings and extra photographs I have of each kid to their box. Of course, I don't bring the box to the hospital room, but it's helpful to already have one at home for when you unpack.
Any must-haves that you bring in your hospital bag?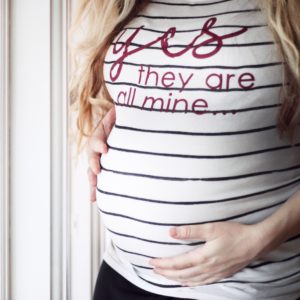 ---
---