Valentine's Day Kids Craft: Sweet Link Chain
I love Valentine's Day. One of my favorite memories as a young kid was creating a heart banner. I did a spin on this with a paper chain craft since my kids aren't ready to cut hearts out quite yet. You can cut strips yourself or let your kids (expect jagged lines!). This Valentine's Day craft for kids takes just minutes and can be as easy or complex as you want it to be.
Making a Valentine's Day Chain
Start by cutting strips of paper. I picked red, pink and lavendar paper. All of the strips were cut quickly at about 1″ thick and across the short side of the paper. We did three types of rings:
Collage: I picked out red, pink and white tissue paper from my stash and cut it into various squares and triangles. I gave each kid a whole sheet of paper, then the kids used glue and a paint brush to paint their papers and stick on the tissue paper. When they were done and dried, we cut the strips for the rings.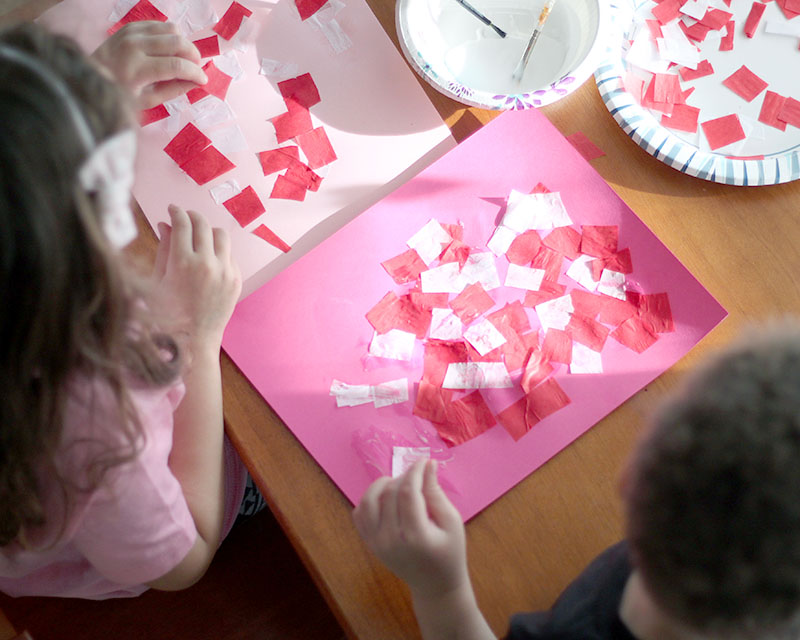 Markers: I only let the kids use pink, purple and red markers. It felt very limiting to my son (who loves black), but it can be a fun challenge for some projects. Limiting the colors made these look a little more Valentinesy and helped the chain look cohesive.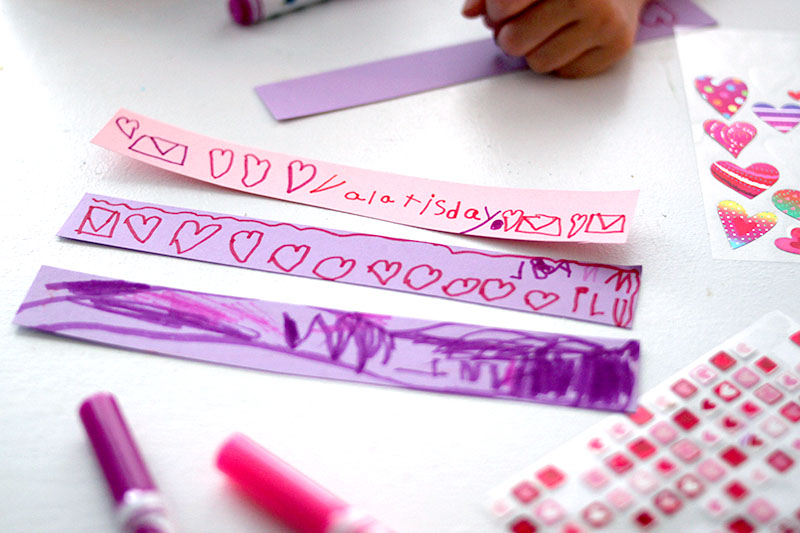 Stickers: I grabbed a few sheets of fun hearts and love-themed stickers. They were only allowed to use a few per strip and only on certain strips (otherwise everything would have been all stickers).
Assembling the Valentine's Day Paper Chain
I tried to mix up the colors and get a somewhat even amount of each style. Once we had the strips done, we just created interlocking circles, securing the ends with clear tape.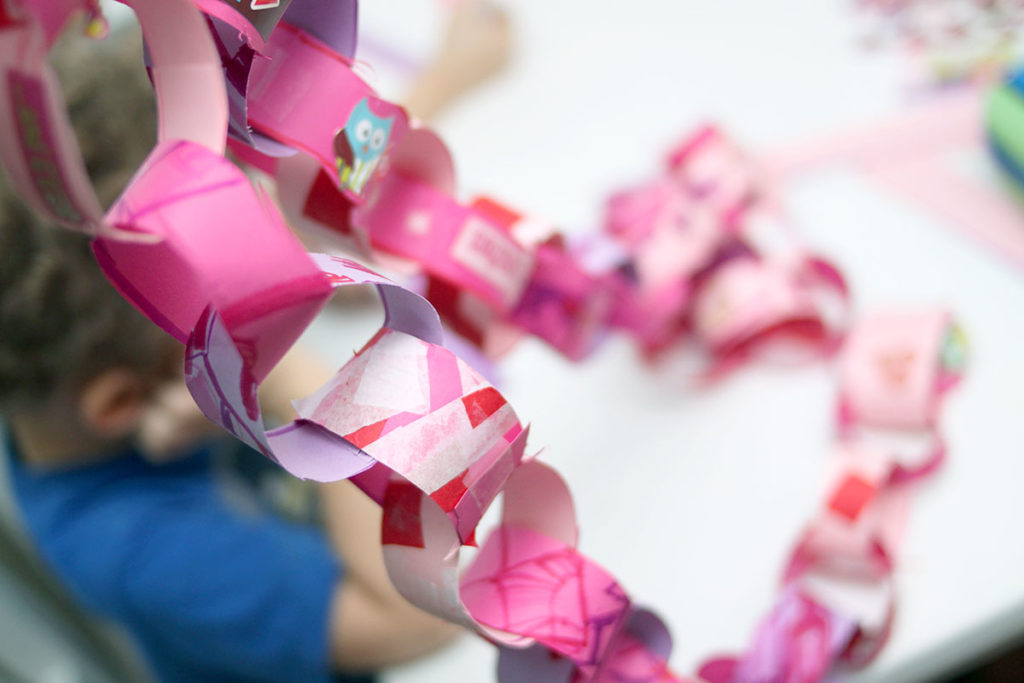 It took a bit to get it all put together, but it is one of those projects that will last for a long time if cared for. We started it two years ago and made it longer this year. It has so many cute illustrations and misspelled words. I love it.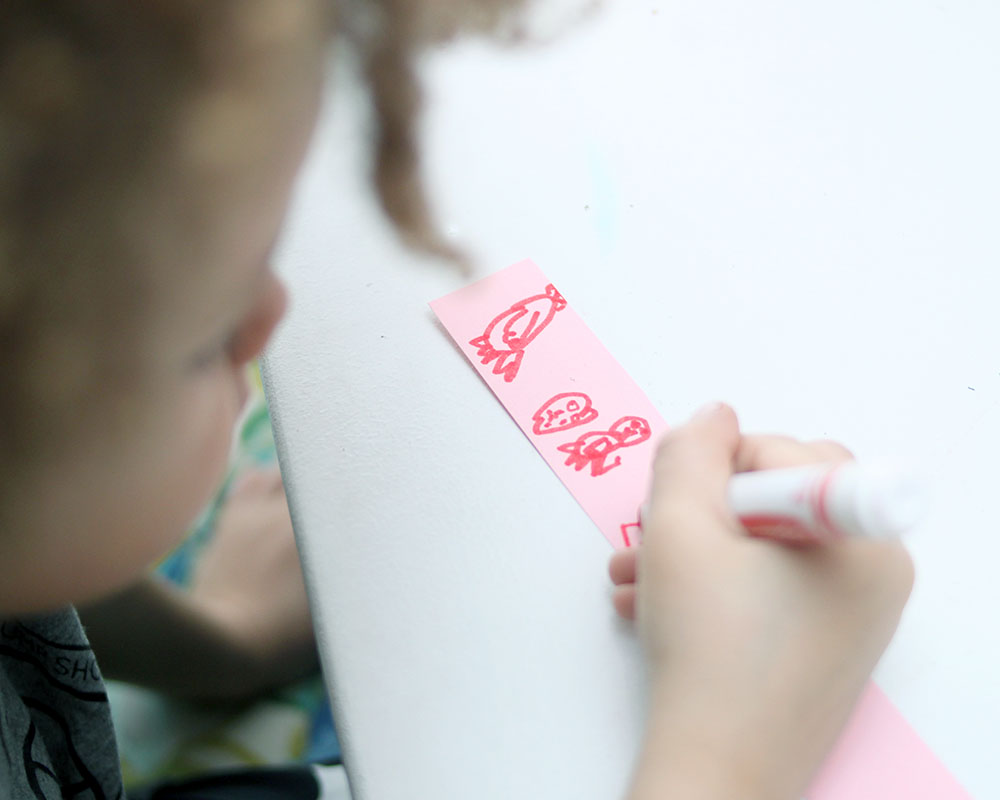 Creating Memorable Holiday Decor
I thought about adding dates and names for who did what when, but I decided against it. While I name and date all their paper artwork, I wanted this to just be more of a group project.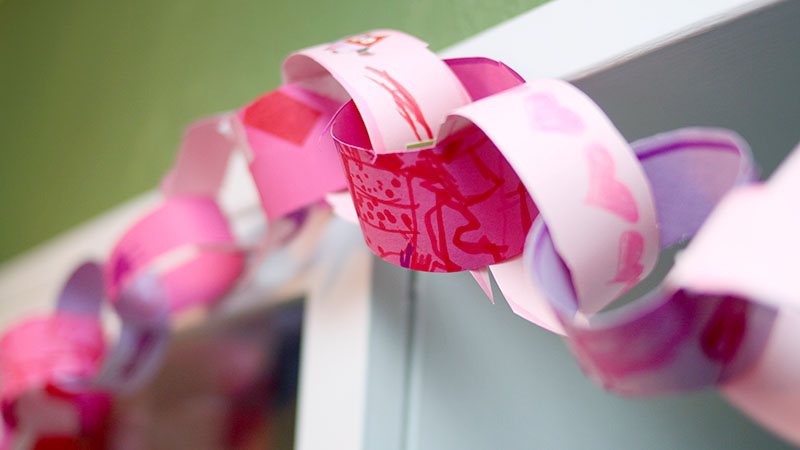 I absolutely love seasonal crafts that showcase a child's abilities/stage/creativity while being useful. So many of their amazing creations on paper get hung on the fridge for a while and then stored in a big box for the future. But having these kinds of projects means pulling out their amazing work every year for a purpose (decorating the house). It makes things fun and personalized, while creating memories.
---
---