Hearty Chicken and Noodles Soup
A twist on two classic favorites (Chicken Noodle Soup and Chicken and Noodles) for a hearty comfort food you will love over the cold months.
Chicken and Noodles Soup Recipe
1 bag thick egg noodles
2-3 lbs chicken(I prefer thighs on the bone)
10 oz spinach
10-12 cups chicken stock or broth (I typically make my own chicken bone broth and you can see how I make it while I make this recipe–use one or two cans plus water if you are buying your chicken stock from the store)
3 large carrots, sliced
1/2 large onion, chopped
3 bay leaves
2 Tbsp. canola oil
Chicken Seasonings:
Lawry's Seasoning Salt
St. Elmo's Seasoning (optional)
Paprika
Garlic Powder
Onion Powder
Salt
Black Pepper
Start by seasoning both sides of chicken pieces and heating the oil on medium high in your large stock pot until shimmering or smoking. Keep spices out for seasoning broth later.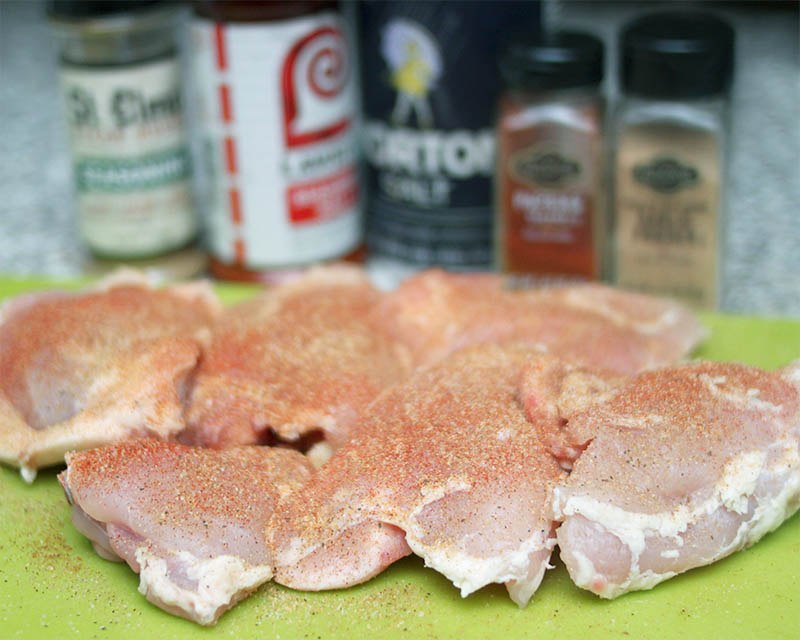 Add the chicken and let it brown on both sides. Do not try to cook chicken completely through, remove from heat back to the cutting board.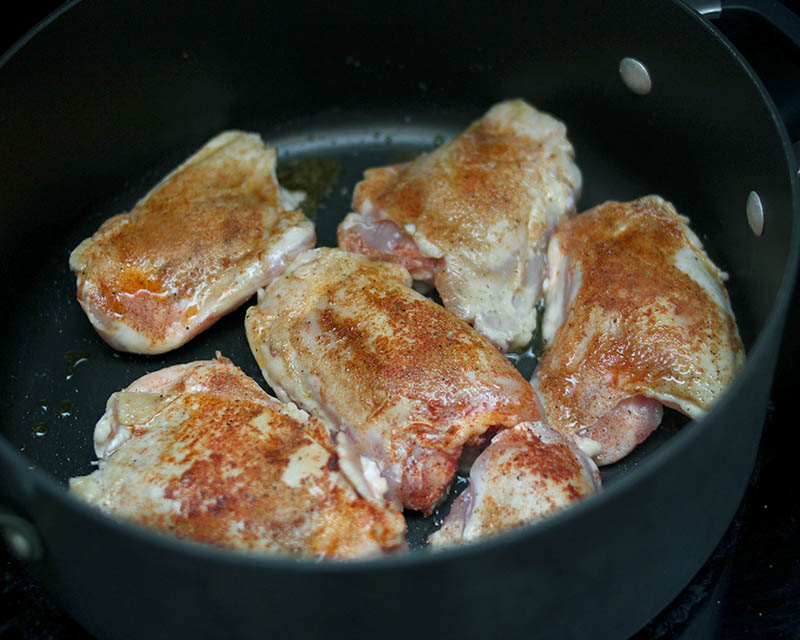 Add carrots to hot oil and let cook until starting to soften (7 minutes or so). Mix in onions and saute with carrots until the onions are translucent (another 4 minutes or so). Add in spinach. While spinach is softening in the heat, chop chicken, removing any bones. When chicken is chopped, add it back to the pot, fully cooking chicken and spinach. It will seem like a lot of spinach until cooked down.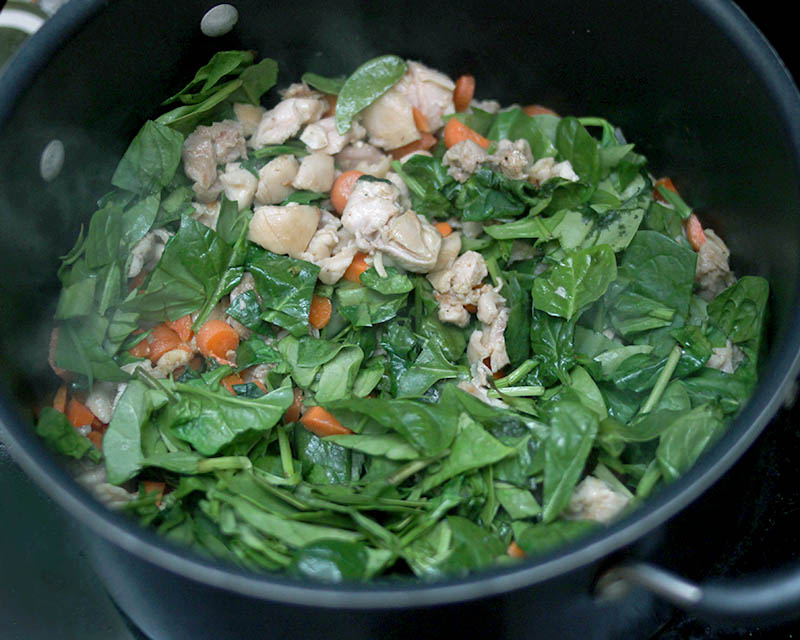 Reserve 1 cup chicken broth in a separate bowl and add the rest to the pot, bringing it to a gentle boil. Add the noodles (if you are avoiding carbs and want a heavier balance of veggies and meat to the noodles, only add half the bag). Make sure the broth is covering the noodles, add bay leaves and seasonings to taste. Place lid on pot and stir occasionally as noodles cook.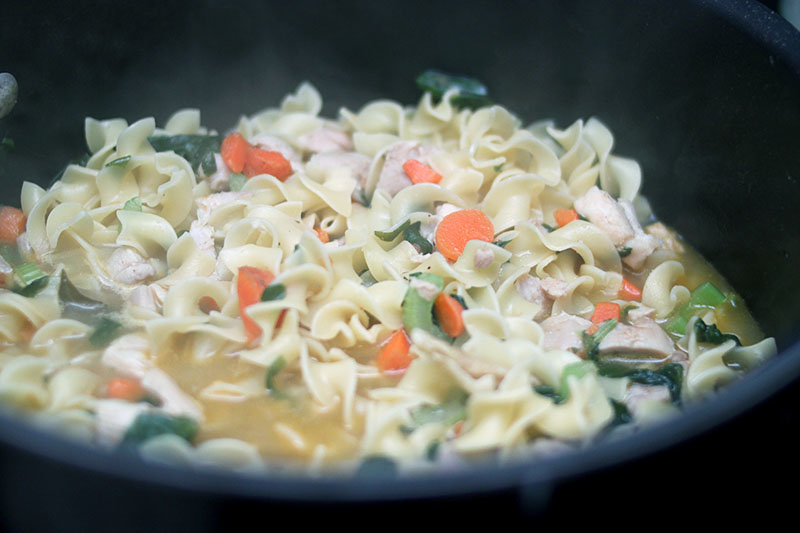 Once the noodles are softened (about 10 minutes), check the flavor of your broth and add more seasonings if needed. Make sure you remove bay leaves before eating!
Pro Tip: Add 1-2 Tbsp corn starch to the reserved broth if you want a slightly thickened broth. Stir it well and then add the broth-cornstarch mixture into the the pot of chicken and noodles soup. This will give your soup that restaurant-style soup thickness.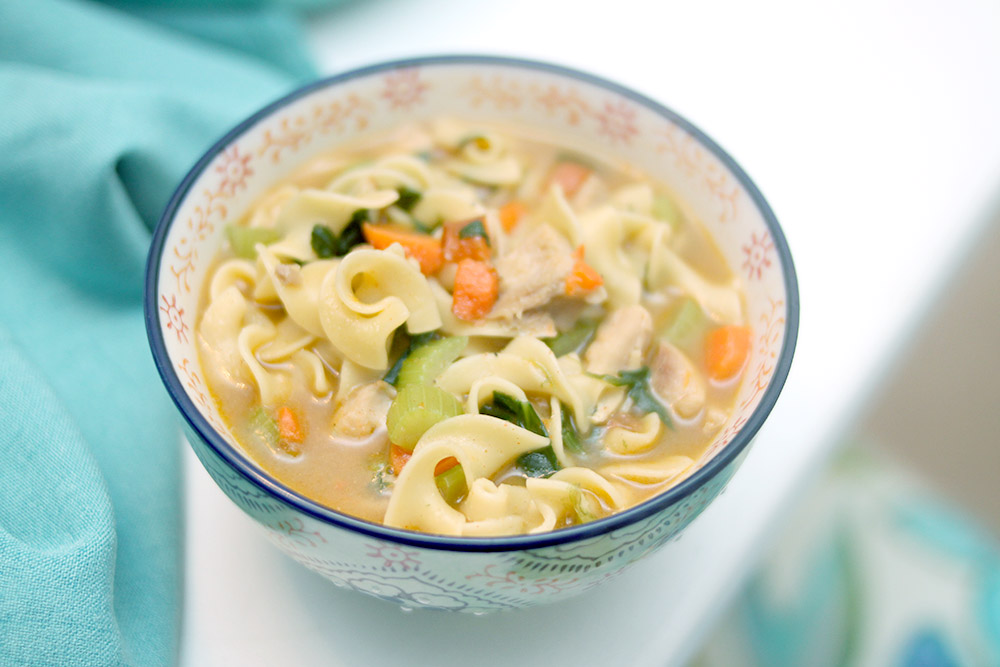 This soup freezes well, so make more than enough and save the rest for later! To save some space, I often freeze just the chicken, seasoned broth and carrots to have a fast and easy starter when I want to make soup on a busy day (just heat to boiling before adding noodles and spinach!)
A Midwest Classic–Chicken and Noodles
I grew up with little-to-no seasoning on my food. The classic midwest meals in my home were meat, bread and potatoes. Chicken and noodles was really just chicken bits added to cooked noodles with salt, a bay leaf and a tiny bit of pepper. My mom served them over a bed of mashed potatoes and usually there were biscuits–you know, the flaky kind you get in a can. This ads up to a lot of starch and carbs, but not much nutrition or flavor. .Still, it is a comfort food.
So, I put my own spin on it.
It still has the basic direction, but with the added benefit of veggies and a major flavor boost. I still typically serve it with mashed potatoes and sometimes homemade rolls. However, this recipe can stand alone as a hearty soup as well, or even be served with a crustier baguette-style bread for dipping.
I also love to add dried Swiss Chard powder to this Chicken and Noodles Soup. It adds a great, earthy, green taste–similar to parsley but softer. I dehydrate the Swiss Chard leaves and make my own powder for this.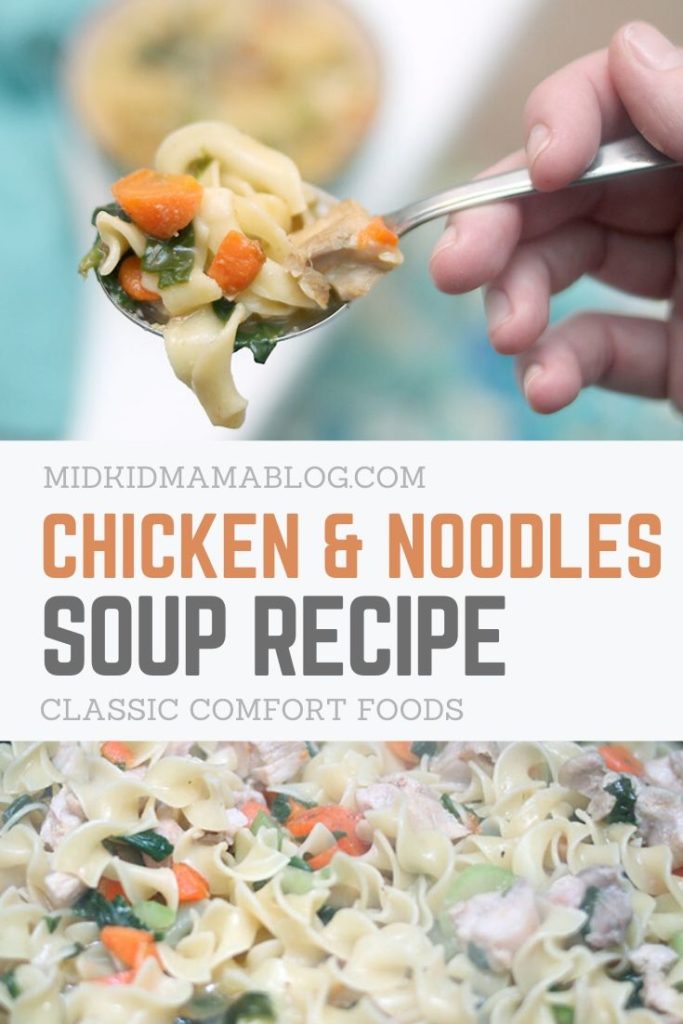 A Soup for Every Occasion
Enjoyed this recipe? I've teamed up with some other awesome food bloggers to bring you a variety of new soup recipes to try with your family. Check out:
Vegan Butternut Squash Ginger Soup
---
---